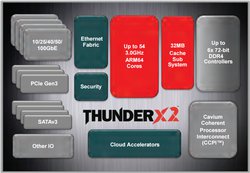 By: Michael Feldman
The Mont-Blanc Project has selected Cavium's ThunderX2 ARM processor to power its next prototype for exascale computing. The system will be constructed by Bull (Atos), leveraging the supercomputer maker's "exascale-ready" sequana architecture, as well as the high-performance features of the ThunderX2 SoC product.

Mont-Blanc is a European R&D project that is exploring the use of energy efficient computing technologies for exascale supercomputers. Beginning in 2011, the project has focused on using ARM and GPU processors to help achieve the high levels of compute efficiency that will be required for these future systems. On the software side, 14 scientific HPC applications are being used as reference workloads for the MontBlanc systems, while OmpSs, a standardized programming model, is being developed as the runtime environment. Much of the software R&D is being done at the Barcelona Supercomputing Centre (BSC) along with collaborating research organizations in Europe and elsewhere. The work is being funded primarily by the European Commission under the Horizon 2020 Programme.
The third phase of the Mont-Blanc, which begin in October 2015 and is being managed by Bull, is working with a budget of 7.9 million Euros to develop a new, more advanced prototype. According to the Mont-Blanc website, this third-generation system will be a co-designed platform that demonstrates "a new level of performance/energy ratio when executing real applications." Phase three was originally supposed to conclude by September 2016, but given this week's announcement that timeline has apparently been stretched considerably.
Currently, Bull is only offering x86-based supercomputers to its customers, but the company does have some experience in building ARM-powered HPC machinery. In 2015, Bull developed and constructed the last Mont-Blanc prototype, a two-rack machine that housed 2,160 ARM processor cores and 1,080 GPUs. The two racks held 8 BullX chassis, consisting of 72 compute blades, each of which held 15 compute cards. In this case, the ARM chip was a Samsung Exynos 5 Dual, a dual-core Cortex-A15 mobile SoC, paired with a Mali-T604 GPU.
This next prototype looks to be much more supercomputer-like, especially considering Cavium's ThunderX2 chip is a bona fide 64-bit ARM server SoC with HPC ambitions. The 54-core processor will run at speeds as high as 3 GHz and include six DDR4 memory controllers. Up to three terabytes of main memory are possible on a dual-ThunderX2 server node. On-chip support for 100G Ethernet is included as well. ThunderX2 is expected to be available sometime this year, but Cavium has not talked about a more specific release date for the product.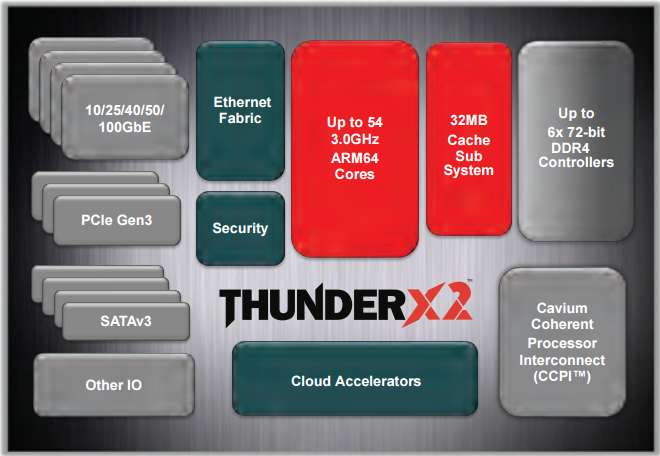 Although there was no mention of including GPUs in the upcoming prototype, the presence of PCIe Gen 3 x16 support in ThunderX2 leaves open the possibility of hooking up discrete GPUs from either NVIDIA or AMD. Given the inclusion of GPUs in previous Mount Blanc prototypes and the fact that truly high levels of energy efficiency will not be solved by an ARM-only solution, there is a good chance that high-end graphics processors will make an appearance in the new platform.
The upcoming prototype will also move to Bull's sequana technology, which will presumably include BXI (Bull Exascale Interconnect), the company's custom high-performance network. Sequana is the company's latest HPC platform and is designed to be the basis of their future commercial exascale supercomputers. As of today, all sequana systems use Intel Xeon and Xeon Phi processors, along with optional NVIDIA GPUs as accelerators.
Whether any of future commercial systems will be powered by ARM remains to be seen. In general, European customers would like to move away from their dependency on Intel-based infrastructure and towards more open-licensed alternatives like ARM. In 2015, BSC director Mateo Valero noted that mobile computing technology could present an opportunity to liberate supercomputing customers from that dependency, while at the same time help create an indigenous HPC capability in Europe.
"Now in Europe for the first time, we have the technology and the people ready to build a new industry – a high performance computing industry," he said. "We can make the same changes we did with aerospace. We can start the Airbus of high performance computing, based on European hardware and software technology."