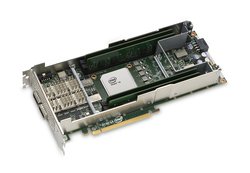 By: Michael Feldman
Intel has expanded its Programmer Accelerator Card (PAC) portfolio with a new product based on the top-of-the-line Stratix 10 SX FPGA.
The first PAC offering, which we reported on a year ago, was the opening salvo of a new line of discrete FPGA accelerators for datacenter workloads that can take advantage of the device's shape-shifting reconfigurability and its inherent ability to process data streams in parallel. Intel has high expectations for its FPGA datacenter business; when it bought Altera in 2018, it predicted that 30 percent of servers will be equipped with FPGAs by 2020. Microsoft has already invested in FPGA acceleration in a big way, with other hyperscalers like Amazon, Baidu, and Facebook implementing less ambitious deployments.
Intel has been working diligently to capture this market. The chipmaker's original PAC product is powered by the Arria 10 GX, an FPGA with 1.15 million logic elements, 53 Mb of embedded memory, and SERDES transceivers providing up to 15 Gbps of throughput. The card itself is equipped with 8 GB of on-board DDR4 memory, along with 128 MB of flash and interfaces for 10GbE and 40GbE. This product is aimed principally at inline acceleration associated with machine learning, financial trading, genomics, cybersecurity, and video transcoding.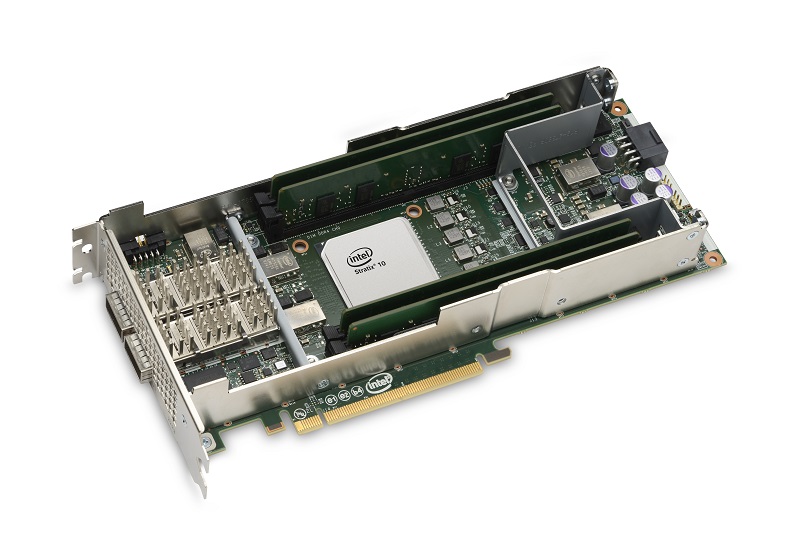 The new PAC is a much heftier piece of hardware in both its Stratix FPGA and the card's supporting componentry. In particular, with 2.8 million logic elements, the Stratix 10 SX has more than twice the processing capacity as its Arria 10 sibling. Along these same lines, the Stratix device comes with 244 Mb of embedded memory and SERDES transceivers supporting up to 26 Gbps.  Likewise, on-board memory is a good deal more capacious, with up to 32 GB of DDR4 and 2 GB of quad SPI flash. Network support provides up to 100 Gbps of bandwidth.
Reflecting its more impressive specs, the Stratix 10 SX PAC is aimed at more demanding datacenter workloads, such as real-time streaming analytics, as well as financial services like automated investment, and risk management. Like the Arria 10 product, Intel is also targeting genomics and video transcoding work for its second offering.
The same software stack that is provided in the original PAC, is also available in the Stratix version, including Intel's Quartus software, the FPGA SDK for OpenCL, and the acceleration stack for the Xeon-FPGA combo. Application software support for the Stratix accelerator card is currently provided by Megh Computing and Adaptive Microware, with Intel promising more providers are on the way.
The original Arria 10 PAC has been in production for a few months and is available in a number of Dell EMC PowerEdge servers. On December 3, it will also be supported in a couple of HPE's Proliant servers. For the time being, the new Stratix 10 SX card is only available as engineering samples. HPE is in line to be the first OEM to offer servers equipped with the new offering, although no date for general availability has been announced.