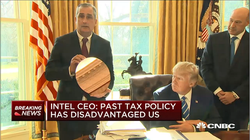 By: Michael Feldman
In an unusual spectacle that injected politics into what would have been a fairly typical announcement of a new semiconductor manufacturing facility, Intel CEO Brian Krzanich announced the company's upcoming 7nm fab in the Oval Office as part of a nationally televised meeting with President Trump.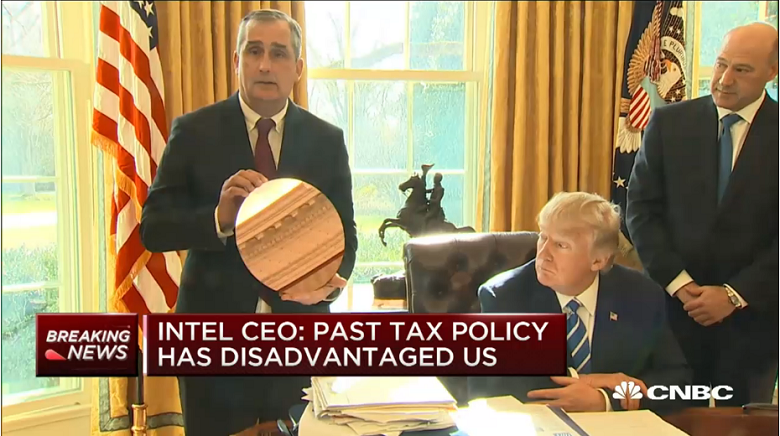 Source: CNBC
After Trump introduced him, Krzanich revealed his company will be investing $7 billion dollars in a new manufacturing plant in Chandler, Arizona. Fab 42 will produce semiconductor chips using Intel's 7 nanometer manufacturing technology. The CEO – Krzanich, not Trump – said the new facility will "make the most advanced 7nm semiconductor chips on the planet." The fab will employ 3,000 people directly, and according to Intel, create an additional 10,000 jobs in the state to support the operation of the factory and its workers.
Krzanich also took the opportunity to talk up his company's commitment to domestic production and R&D. "Intel is very proud of the fact that the majority of manufacturing is here in the US and the majority of our research and development is here in the US," he said, adding that "we've been able to do that even when the regulatory and tax policies have disadvantaged us in the past relative to the competition we have across the world."
That last comment suggests why Krzanich is courting the White House, since Trump has promised to reduce regulations and taxes on American corporations, especially ones that don't offshore their activities. The decision to build the fab in Arizona, however, has been years in the making, and was not done in anticipation of any federal help. Here it's also worth mentioning that Intel was one of 97 companies who filed court papers earlier this week opposing Trump's executive order restricting travel and immigration from seven countries.  Apparently, none of the press on hand thought to bring that up during the Q&A following Krzanich's announcement.
As far as Fab 42 goes, it will join two other facilities in Chandler, Arizona, namely Fab 12 (65nm) and Fab 32 (22/14nm), although there's a good chance Fab 12 will be retired by the time the 7nm facility comes online. Intel has five other manufacturing plants in the US: three in Oregon and two in New Mexico. The company also operates three semiconductor manufacturing facilities outside the country: Fab 24 (14nm) in Ireland, Fab 28 (22nm) in Israel, and Fab 68 (65nm) in China.
No date was offered when the new Intel fab would be in operation. In an earnings call in January, Intel said it would construct a pilot plant for 7nm chips this year. However, most industry analysts don't expect commercial production to begin before 2020, and more likely 2022. The chipmaker is currently shipping 14nm products and is supposed to begin producing 10nm parts later this year. The move to 7nm is expected to take a good deal longer, and will probably end up involving more exotic technologies like using gallium-nitride (GaN) as a semiconductor material and employing extreme ultraviolet (EUV) radiation tools for etching the chips.
Intel's major competitors in this area – GlobalFoundries, TSMC, and Samsung – are also moving ahead with plans for 7nm production. Although all three appear to be ahead of Intel at this process node, it's well-recognized that manufacturing geometries are not equivalent between manufacturer. That's because the industry's move 3D FinFET technology introduced a lot of ambiguities about how to measure transistors. The details of how to sort his out is explained in greater detail here, but the bottom line is that transistors of a given size from non-Intel manufacturers correspond to Intel transistors manufactured on larger process nodes.
Regardless, none of Intel's three rivals are likely to get a White House invite anytime soon. GlobalFoundries has only three of its nine facilities operating in the United States, including one in Vermont and two in New York, while TSMC and Samsung each claim a single US-based fab.
."