By Jaclyn Ludema, Lead Sustainability Analyst, Hyperion Research and Dr. Alyson Freeman, Dell Sustainability Product Manager, Infrastructure Solutions
A new global high performance computing (HPC) study by Hyperion Research sponsored by Dell Technologies, Intel, and NVIDIA finds evidence of a remarkable rise of sustainability and energy efficiency to the top of priority lists for many HPC datacenter procurement plans, second only to performance, even more imperative than price. A culmination of several geopolitical factors and HPC utilization trends in recent years has made the issue of sustainability unavoidable for many HPC sites.
HPC datacenters are experiencing the financial strain of skyrocketing energy costs at scale, a problem exacerbated by the increased demand for HPC resources for AI/ML/HPDA workloads and new CPUs/GPUs/xPUs with substantially larger power requirements. New government regulations around energy-efficient datacenters and newly set business practice goals are also motivating the move to more sustainable alternatives.
This new study dives deep into four areas of focus in order to better understand the shift toward sustainability and energy efficiency across the HPC market: Identifying motivations, strategies, impacts on future procurements, and progress tracking methods.
Identifying motivations
As the number of AI/ML/HPDA workloads performed on HPC systems continues to increase, the drive to expand computing capabilities is coming up against the cost of required energy. 57% of all respondents were motivated by the idea of wanting to do more with less: expanding computing capabilities with lower power.
Within the global trend of greater awareness of environmental concerns, many companies and organizations have begun implementing business practices that intentionally consider environmental, social, and governance (ESG) standards. Companies and organizations with ESG goals recognize the widespread benefits of prioritizing sustainability, not just for the potential cost savings of energy efficiency. 48% of respondents cited ESG goals as a sustainability motivator.
With the cost of energy skyrocketing, particularly in EMEA due to supply chain concerns of traditional energy sources, a growing motivation for sustainability prioritization is the immediate threat to operations of HPC sites. 33% of sites are encountering prohibitive energy costs.
The top motivations by region are:
North America: Wanting to do more with less

APJ: ESG Goals

EMEA: Prohibitive Energy Costs
Additional insight into motivations is captured in this study, including the impact of energy costs to datacenters across different regions of the world, and across market sectors. Also explored are the impact sustainability goals and government regulations are having on HPC users choosing to move to the cloud.
Strategies
When discussing efforts to meet sustainability goals, approaches varied widely across HPC sites depending upon budget, access to renewable energy sources, procurement timelines, and time allotted for energy efficiency innovation. The dynamic pathways each HPC datacenter takes toward the shared goal of sustainability have yet to be explored in detailed comparison. To tee off this effort, this study asked respondents to select their top 2 priorities in their sustainability goals.
56% prioritize efficient hardware configuration (higher performance per watt)

42% prioritize optimized cooling and power distribution

34% prioritize optimized workloads (identifying efficient workloads on-premises and in the cloud)
Other areas of strategy explored in this research include the impacts of sustainability goals on hiring practices, priorities over the next 18 months, and budgets.
Impacts on future procurements
While previously a nice-to-have if budgets permit, energy-efficient hardware, smart power management/telemetry software, liquid cooling, or other energy-efficiency purchases are now a part of 87% of sites' sustainability plans.
When asked to select their top 2 more important factors for on-premises procurements, 35% of datacenters selected sustainability or energy efficiency as the second most important factor suggesting gaining importance in the procurement process. Industry leads this trend, with 37% of sites indicating that environmental sustainability/energy efficiency is their second most important factor in on-premises procurements.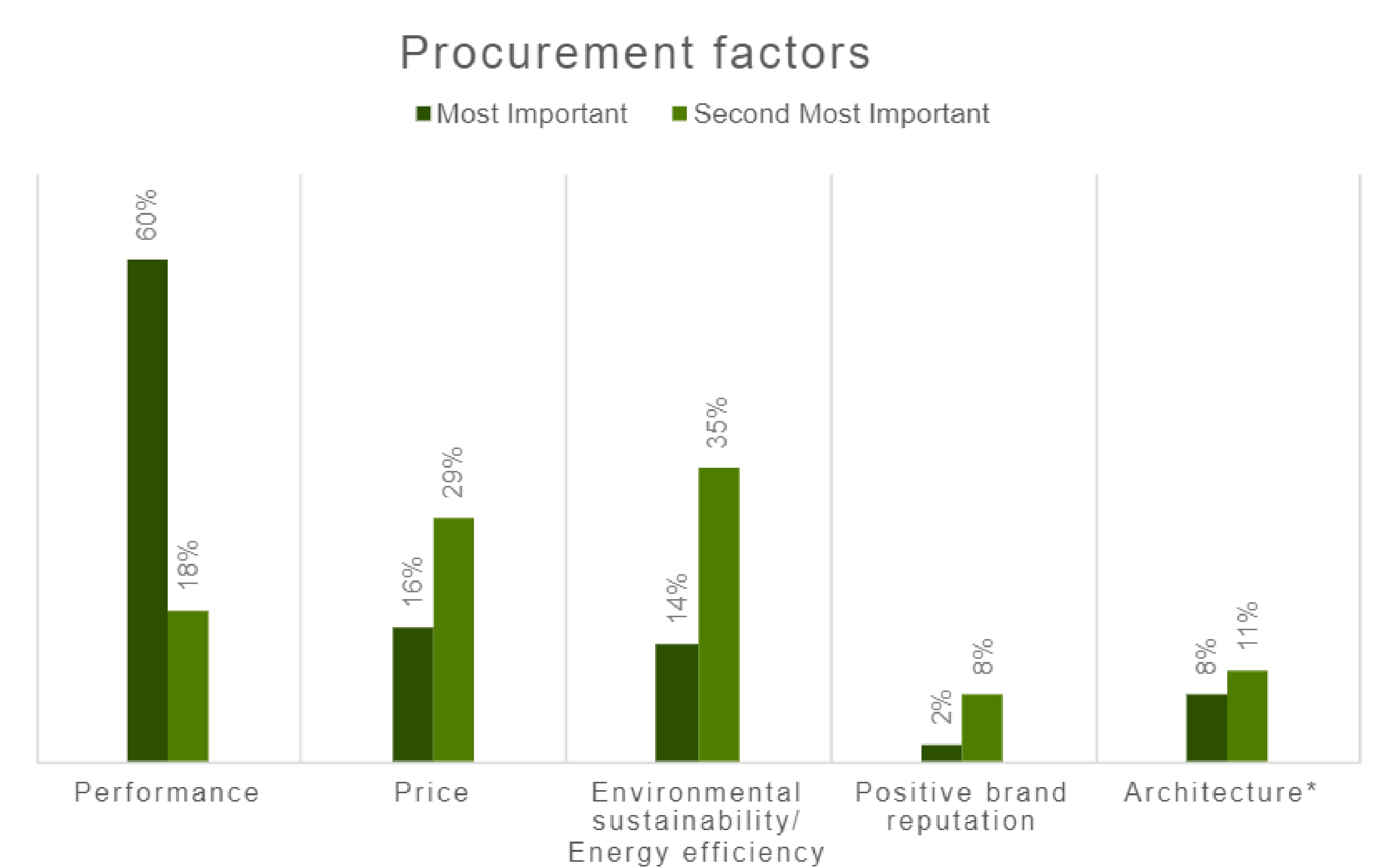 Source: Hyperion Research, May 2023
The study also investigated the effects of sustainability plans on procurement timelines and identified procurement trends across regions and sectors.
Progress tracking methods for sustainability and energy efficiency goals
Nearly half (49%) of datacenters in this survey said they are currently able to measure their carbon footprint, energy use, or environmental impact. Sites that measure their carbon footprint, energy use or environmental impact are also able to track and report on progress towards sustainability progress, increasing the likelihood of success in sustainability efforts.
Additional exploration into the gaining popularity of smart power management (telemetry) usage and the rising demand for new HPC sustainability metrics are also included in this study.
What is most interesting about HPC sustainability efforts is the numerous ways sites are addressing the challenge. Every site has different resources available to devote toward this goal, timelines for procurement and strategy implementation, and access to sustainable energy alternatives. Looking across the 93 sites surveyed in this study, trends were identified, providing insight into the decision-making process surrounding sustainability and the merit of different approaches.
Study Demographics
Respondents considered in this study have visibility into the operations of their organization's HPC computing environment either in the cloud or on-premises. Respondents are from APJ (16%), EMEA (25%), and North America (59%), and work in the academia (10%), government (12%), and industry (78%) sectors. The study consisted of multiple-choice and short-answer questions.
ISC23
Dell Technologies released the Hyperion Research study results at the Dell HPC Community Meeting & Networking Event at ISC23 on May 21, 2023. Dell Technologies is a Gold Sponsor of ISC23 and will be exhibiting in booth #H819. Visit the booth to find out how Dell Technologies is helping customers leverage sustainable technology to drive positive solutions for a better today and tomorrow through products and services designed to increase efficiency, reduce energy use, and shrink emissions.
Learn More
Read a summary of the findings and download the whitepaper and survey report at www.dell.com/en-us/lp/dt/environmentally-sustainable-hpc