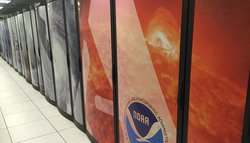 By: Michael Feldman
Later this month, the National Oceanic and Atmospheric Administration (NOAA) will install two Dell supercomputers to its datacenters in Reston, Virginia, and Orlando, Florida.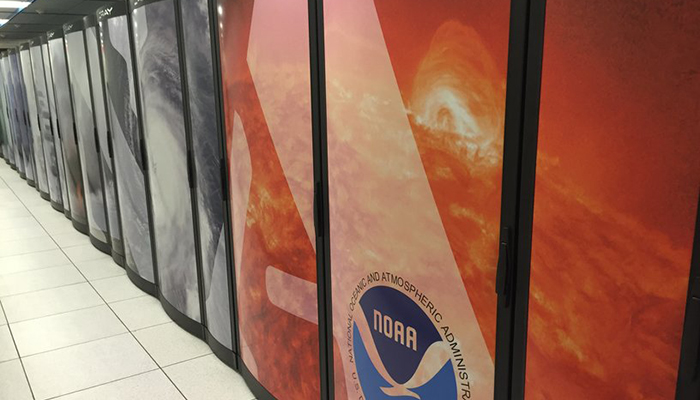 According to the press release, the new systems will add 2.8 petaflops of computational capacity to NOAA, bringing the organization's total to 8.4 petaflops. As recently as 2015, NOAA had only 776 teraflops of capacity to draw on. The addition of two Cray systems last year brought the organization into the petascale realm, enabling the agency to roll out a series of enhancements to their forecasting models.
The additional Dell hardware to be deployed this month represents the third phase of an upgrade effort designed to provide NOAA with the kind of computational muscle need for more accurate weather and climate forecasts. Only the UK's Meteorological Office, with 14 petaflops of aggregate capacity, has more peak performance on tap than that of the US.
"NOAA's supercomputers ingest and analyze billions of data points taken from satellites, weather balloons, airplanes, buoys and ground observing stations around the world each day," said retired Navy Rear Adm. Timothy Gallaudet, Ph.D., acting NOAA administrator. "Having more computing speed and capacity positions us to collect and process even more data from our newest satellites — GOES-East, NOAA-20 and GOES-S — to meet the growing information and decision-support needs of our emergency management partners, the weather industry and the public."
The additional capacity will also allow NOAA to move to its next-generation Global Forecast System (GFS), also known as the "American Model." Over the next year, developers are planning to incorporate significant enhancements to GFS, increasing the model's resolution from 13 kilometers and 64 levels out to 10 days, to 9 kilometers and 128 levels out to 16 days. During this year's hurricane season, the Dell supercomputers will run the upgraded GFS code in "research mode."
NOAA's plans reflect a global trend to improve regional weather and climate forecasts. Besides the aforementioned UK Met Office, which completed its third upgrade in 2017, the Korea Meteorological Administration, Meteo France, and Japan's Meteorological Research Institute have all added petascale capacity to their respective datacenters over the past two years. Most recently, the Indian Institute of Tropical Meteorology installed the country's first multi-petaflops supercomputer for weather forecasting and earth science research. As the price of petaflops continues to decrease and the cost of weather-related destruction rises, expect to see more nations invest in such systems.