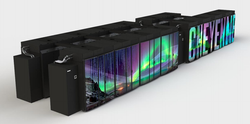 By: Michael Feldman
The National Center for Atmospheric Research (NCAR) has begun operation of Cheyenne, a 5.34-petaflop supercomputer that will support a range of research related to weather, climate, and other Earth sciences. The system is currently ranked as the 20th most powerful system in the world, with a Linpack mark of 4.79 petaflops.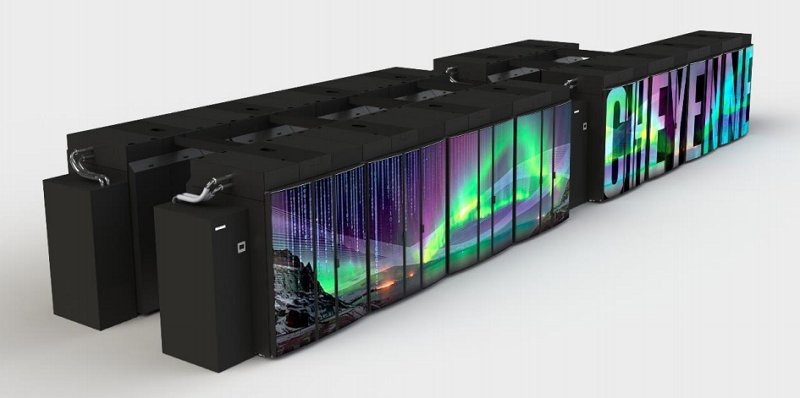 Source: NCAR
Cheyenne was built by SGI, which is now a part of Hewlett Packard Enterprise. The hardware consists of Intel "Broadwell" Xeon processors (18-core 2.3GHz E5-2697v4) and Mellanox EDR InfiniBand. The system encompasses more than four thousand dual-socket nodes, one-fifth of which are equipped with 128GB of memory, with the remaining four-fifths containing 64GB. Total memory capacity is 313 terabytes.
External data storage consists of 20 petabytes of DDN's SFA14KX systems, expandable to 40 petabytes. Aggregate I/O bandwidth is 200 GB per second. Forty-eight 800GB SSD drives are included to speed metadata access. The storage system is overlaid by IBM's Spectrum Scale parallel file system (formerly GPFS). Cheyenne's storage will be integrated in the center's existing GLADE central disk  resource, providing access to more about 37 petabytes of capacity.
Cheyenne is three times as powerful and energy-efficient as Yellowstone, the center's previous top-ranked supercomputer. The latter is a 1.5 petaflop IBM iDataPlex system, which was installed in 2012 and is scheduled to continue operating until the end of the year. Here it's worth noting that prior to Cheyenne, NCAR had relied almost exclusively on IBM for its supercomputing infrastructure as far back as 1999. When IBM sold its x86 server business to China-based Lenovo in 2014, it made follow-on contracts for these x86-based clusters with US government highly unlikely. The all-American SGI, of course, was happy to oblige.
Regardless of who is supplying the petaflops, the more performant Cheyenne will enable scientists to study much larger problems in areas as far afield as weather prediction, wind energy, hydrology, climate change, and air quality. Some of the more interesting work that will be performed on the new supercomputer involves climate engineering, a relatively new research domain that studies different approaches to counter the effects of heat-trapping greenhouse gases.
Although Cheyenne is located in the city it was named after – at the NCAR-Wyoming Supercomputing Center (NWCS) – it will be accessible to researchers from universities and national lab across the country. In fact, NWCS, which started operating just five years ago, has already attracted more than 2,200 scientists from over 300 universities and national labs.
Cheyenne is scheduled to be in operation through 2021.