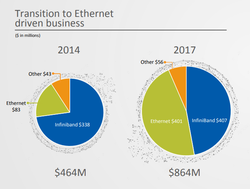 By: Michael Feldman
Mellanox Technologies booked $268.5 million for the second quarter of 2018, establishing a new high-water mark for the company.
The record revenue represents a 26.7 percent year-over-year increase from Q2 2017 and a 7 percent bump from Q1 2018. The second quarter revenue brings the half-year total to $519.5 million, a 29.7 percent increase from the $400.6 million collected in the first half of 2017. Net income for the quarter hit $16.5 million, compared to the nearly $8.0 million loss the company suffered in second quarter of 2017.
The record revenue was driven by the company's Ethernet business, which grew 81 percent year-over-year. Those sales were spearheaded by Ethernet switch revenue, which was up 114 percent over the same period.  According to Eyal Waldman, President and CEO of Mellanox Technologies, the adoption of their Ethernet adapters and switches by OEM partners and a number of hyperscale customers has provided a solid foundation for the company's growth.
"Our strong revenue growth reflects years of investment in 25 gigabit per second and above Ethernet and InfiniBand technologies," said Waldman. "Our record profitability demonstrates the leverage we are producing in the business by focusing our investments in the right products. We continue to see strong traction with our 25 gigabit per second and above solutions as they become the preferred solution of choice in hyperscale, cloud, high performance computing, artificial intelligence, storage, financial services and other markets across the globe."
Indeed, Mellanox now appears to be reaping the benefits of a long-term investment strategy that put its Ethernet products on equal footing with its InfiniBand portfolio.  The company's first Ethernet offerings, in the form of 10 GigE adapters, were released in 2007. By 2011, they were selling 10/40 GigE Ethernet switches as part of an end-to-end solution. In 2015, the company realsed 25 and 50 GigE switches and adapters, making them one of the early providers of this technology. As of last year, Mellanox claimed it was "the second largest supplier of Ethernet adapters and the leader in the fastest growing 25G and above segment, with more than 60 percent market share."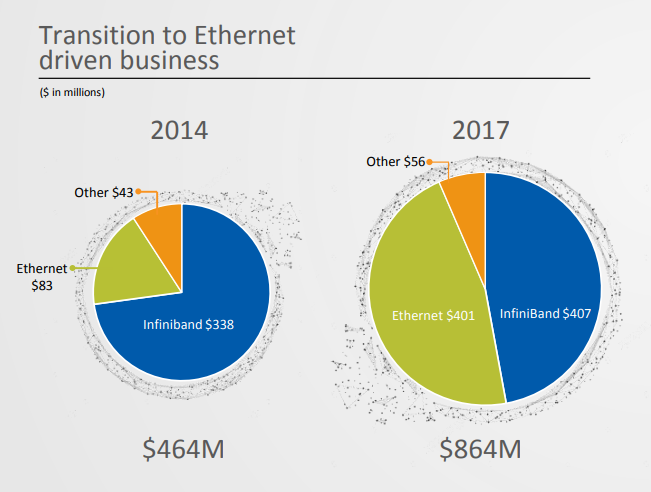 Source: Mellanox
As a result, despite the company being best known for its InfiniBand offerings, Ethernet now represent about half of its sales. In 2017, InfiniBand revenue came in at $407 million, against Ethernet revenue at $401 million (with $56 million attributed to Other). Just three years prior, Mellanox's InfiniBand business collected $338 million, with Ethernet at just $83 million. Clearly, Ethernet is now driving the majority of revenue growth at the company and is poised to be the dominant product set from a sales perspective.
That said, InfiniBand revenues are expected to continue their long-term upward trajectory, albeit at a slower pace than Ethernet sales.  In the short-term, Mellanox expects its InfiniBand business to be "flat to slightly up in 2018" compared to 2017.  At this point, about 70 to 80 percent of the company's InfiniBand sales come from HPC and AI installations, and given that both of these sectors are growing, the long-term prospects for InfiniBand appear to be favorable. AI is growing particularly robustly, although only a portion of this infrastructure uses InfiniBand.
By contrast, InfiniBand is the dominant interconnect for HPC machinery – that, despite the misleading Ethernet stats of the TOP500 list, which encompasses a good number of non-HPC systems. As Mellanox recently reminded everyone, InfiniBand is used in four of the five top supercomputers on the list and is the most used interconnect for TOP500 systems, with the exception of the bottom fifth of the list.
Mellanox's next move on the InfiniBand front is the release of its HDR adapters and switches, which will offer 200 Gbps speeds. According to Waldman, they expect to start shipping these products sometime in the second half of this year.
With regard to its financial future, the company is projecting another record quarter in Q3, with expected revenue in the $270 to $280 million range. For the year, it expects to collect between $1,065 and $1,085 million. If that comes to pass, it will be the first time Mellanox hits $1 billion in sales.