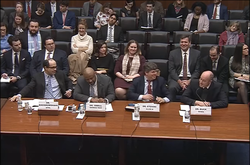 By: Michael Feldman
During Congressional testimony last week, Intel and NVIDIA proposed that the US government institute policies that would speed development of artificial intelligence. The testimony was submitted to the House Subcommittee on Information Technology, headed by Texas Congressman Will Hurd.
The purpose of the hearing – the first in a series of three – was to gather perspectives of industry professionals and other stakeholders to help guide the federal government in formulating public policy around AI technologies. The secondary purpose was to make sure the US maintains its leadership in AI, since from Hurd's perspective, "dominance in artificial intelligence is a guaranteed leg up in the realm of geopolitics and economics."
In this first hearing, the AI vendor community was represented NVIDIA and Intel. At this point, NVIDIA is the dominant provider of AI hardware components – its GPUs – while Intel aspires to be in that position. Submitting testimony was Amir Khosrowshahi, Vice President and Chief Technology Officer of Intel's Artificial Intelligence Products Group, and Ian Buck, Vice President and General Manager of NVIDIA's Tesla Data Center Business. Both outlined why the technology had the potential to transform whole sectors of the economy and what the federal government should be doing in response.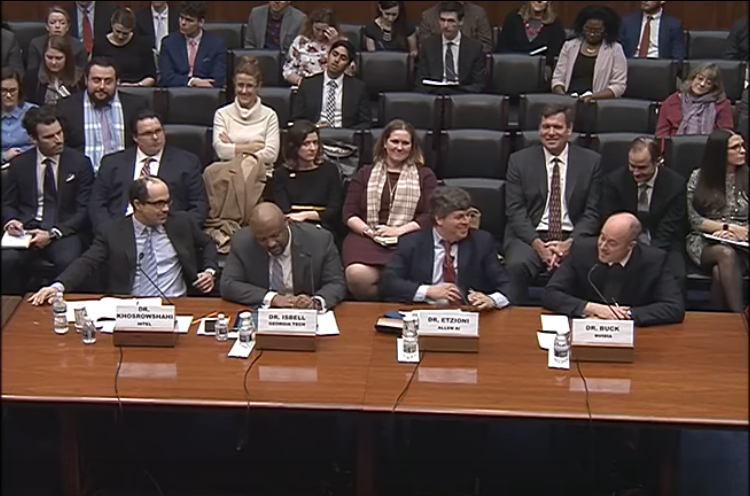 Buck started out by describing a number of areas where AI could provide a huge economic impact. In transportation, for example, he pointed to a study that US traffic congestion in 2017 alone cost drivers over $300 billion, which works out to more than $1,400 per driver.  In a separate Government Accountability Office (GAO) report, it was estimated that federal agencies made $144 billion in improper payments in 2016. In both cases, Buck said that AI can be used to eliminate much of these inefficiencies. Buck also pointed to healthcare, cybersecurity, and defense systems as additional areas where AI could save billions of dollars, while also creating additional value. "By some estimates, AI will add eight trillion dollars to the U.S. economy by 2035," he said.
He offered three recommendations on what the federal government could do to speed AI adoption. First off, Buck said the US should be aggressively pumping money into AI research to match what other nations are doing. He specifically called out the NSF, NIH, and DARPA as target agencies for this type funding. "We also need faster supercomputers, which are essential for AI research," he added.
Second, he thinks every major federal agency needs to invest in artificial intelligence to better fulfill their respective missions. Realizing that there is virtually no AI expertise at most of these organizations today, he called for each agency to reach out to policy advisors to fill in some of the knowledge gaps, as well as to recruit data scientists and AI experts.
Lastly, Buck suggested the federal government offer more open access to the datasets it controls, plus work toward curating the data so it can become more usable by AI applications. He mentioned the OPEN Government Data Act, which the House passed last November, as the kind of legislation that needs to be enacted to make public datasets available to researchers.
He concluded by reminding the subcommittee that AI is "the biggest economic and technological revolution to take place in our lifetime," and is a technology in which "we can't afford to allow other countries to overtake us."
Like Buck, Intel's Khosrowshahi pointed to a variety of sectors and application areas where AI could have the most impact. In some cases, that impact is already being felt. He described a medical diagnostic example where AI was able to spot the difference between pericarditis and cardiomyopathy with 90 percent accuracy.  Experienced doctors were only able to provide a correct diagnosis about 75 percent of the time, which fell to 50 percent for less experienced doctors. "In this regard, artificial intelligence democratizes expert diagnoses for patients and doctors everywhere in the world," said Khosrowshahi. He also mentioned agricultural production and law enforcement as other areas where AI is being used to deliver faster, more accurate results.
As far as policy prescriptions, Khosrowshahi suggested the government adopt a more open data strategy, and like Buck, endorsed passage of the OPEN Government Data Act. His rationale is that tax-payer-funded datasets are a public resource and thus should be made available to anyone who wants to use them to develop deep learning models.
Khosrowshahi also believes the government needs to be involved in developing the AI workforce, noting that the demand for experts in this field far exceeds the supply.  He says support for STEM education is just a start, and we need more federal funding for basic science research through agencies like the NSF. The money ends up supporting graduate level researchers at universities, which are the basis of the future workforce
"Current federal funding levels are not keeping pace with the rest of the industrialized world," explained Khosrowshahi. "I encourage lawmakers to consider the tremendous returns on investment to our economy that funding scientific research produces."
He also noted that the government will have to deal with the unfortunate effects of workers displaced by AI technologies.  Khosrowshahi admitted that not much is known about how this will play out, but said the recently introduced AI JOBS Act, which directs the Department of Labor to study the issue and advise Congress on the results, is a step in the right direction.
He also brought up the problem of AI transparency, or the lack of it. It's a well-known problem that most of this software today operates as a black box and is not able to supply an explanation of how it arrived at its results. That, said Khosrowshahi, is a problem since in many cases businesses and end users will demand accountability. "For these reasons, government should consider which AI uses require algorithm explainability to mitigate any potential for discrimination and harm to individuals," he said.
Khosrowshahi wrapped up his testimony by saying the US stands to benefit tremendously by fostering this technology but added that it's not "a zero sum game," inasmuch as smart public policy in many countries can reinforce each other.  "We believe that AI is poised to create tremendous economic value while solving some of society's most pressing challenges, but governments must mitigate unwanted impacts," he concluded. "Striking the right balance will require governments to embrace changes and help society prepare."
There was additional testimony from Charles Isbell, Senior Associate Dean at Georgia Tech's College of Computing, and Oren Etzioni, Chief Executive Officer at the Allen Institute for Artificial Intelligence. Curiously, neither of them offered much in the way of policy guidance for the government, restricting their comments to some of the challenges they see in the wider adoption of the technology, and its public perception.
A video of the testimonies, along with a complete transcript of all statements and opening remarks can be found here.