By: Michael Feldman
Intel has released the DC P4800X, the company's first SSD equipped with 3D XPoint, a next-generation non-volatile memory that offers performance and endurance that approaches DRAM. The device can be used accelerate workloads in the datacenter bound by memory capacity.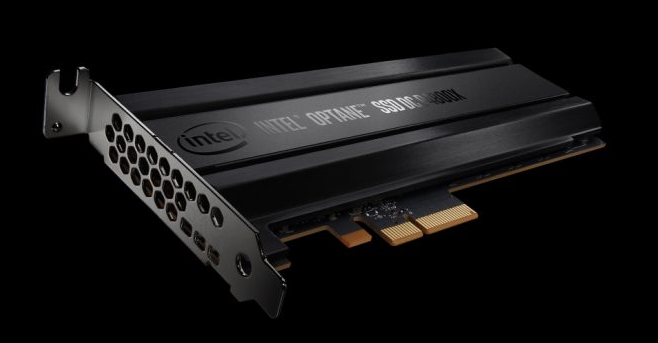 Optane SSD DC P4800X. Source: Intel
The new offering appears to be aimed at the data analytics and high performance computing space, which currently uses NAND-based SSD technology, but typically as a storage accelerator that replaces spinning disks. In the case of the DC P4800X, the idea is to offer capacity that is much less expensive than DRAM, but with enough speed to act a memory extender. That should allow users to do in-memory computing much more economically than before.
According to Intel, the new drive has a typical latency of less than 10us, which is several times faster than the high-end NAND-based solid state drives. Using a more practical metric, the DC P4800X can hit 500,000 IOPS (around 2 GB/sec) at rather modest queue depths (11), enabling the device to act as a capacious data cache or data extender for memory-demanding applications.
Since the 3D XPoint memory is much more robust than that of NAND, the DC P4800X is suitable with environments that are write-intensive, which has limited the more widespread use of NAND-based SSD devices. It has also limited their longevity, as NAND capacity degrades quickly under such write-heavy environments. The DC P4800X, on the other hand can endure up to 30 drive writes per day.
To coalesce the server's DRAM and DC P4800X into a single memory pool, Intel provides a software tool, known as the Memory Drive Technology. It virtualizes the two memory spaces and makes them appear as a single pool to the OS and application. The software manages data placement underneath the covers in order to take advantage of the faster speed of DRAM and the larger capacity of the DC P4800X.
As far as the hardware itself, the DC P4800X currently comes in a single configuration: 375GB. It's an NVMe device, based on PCIe 3.0 technology. It uses just 4 lanes of PCIe, so multiple SSDs can be hooked into a typical server.
The 375GB offering is available now to customers in an early ship program, and presumably will be generally available later this year. In addition, Intel is promising DC P4800X products with 750GB and 1.5TB capacities, which should be available in the second half of 2017.