By: Michael Feldman
IBM Research has demonstrated an advancement in phase change memory (PCM) that moves the technology closer to its potential of a "universal memory." PCM is a technology that takes advantage of the unique amorphous-crystalline phase change properties of chalcogenide glass to store memory bits in a non-volatile manner. IBM has devised a unique variant that is able to store 3 bits of data per cell, enabling much denser storage arrays to be built.
Its promise as a universal memory stems from the ability of PCM to operate close to the speed of DRAM, but with the density and data retention characteristics of flash. Unlike flash though, PCM is much more durable, able to endure upwards of 10 million write cycles without degradation. That's more than 1,000 times better than what the best flash technology can offer.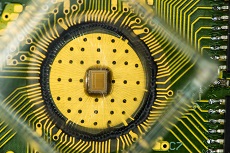 What IBM is demonstrating this week is a 64K-cell array that is able to store 3 bits per cell and work at elevated temperatures over 1 million cycles. To achieve multi-bit storage, the researchers developed two enabling technologies: a set of drift-immune cell-state metrics and drift-tolerant coding and detection schemes. A paper describing the advancement was presented this week at the IEEE International Memory Workshop in Paris.  
The denser configuration and greater endurance should improve the economics of PCM substantially according to Dr. Haris Pozidis, an author of the paper and the manager of non-volatile memory research at IBM Research - Zurich. "Reaching 3 bits per cell is a significant milestone because at this density the cost of PCM will be significantly less than DRAM and closer to flash," said Pozidis.
The experimental PCM chip developed by IBM is a 2 × 2 Mcell array with a 4-bank interleaved architecture. The memory array size is 2 × 1000 μm × 800 μm. The PCM cells are based on doped-chalcogenide alloy and were integrated into the prototype chip using 90 nm CMOS baseline technology.
The press release from IBM can be read here.