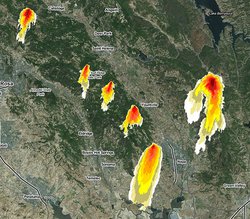 By: Michael Feldman
Firemap, a predictive modeling and mapping tool developed to track wildfires, is being used by California residents and first responders to help them deal with the deadliest wildfires in the state's history.
The wildfires, which began on October 8 in Northern California, have been responsible for the deaths of at least 40 people and the destruction of approximately 5,700 homes and businesses. During this time, the fires have charred more than 340 square miles of land – an area larger than New York City.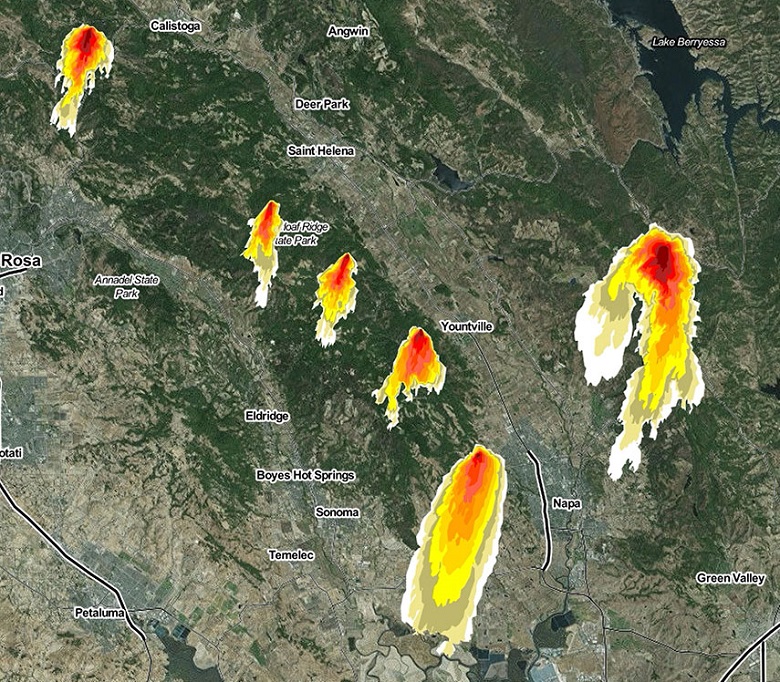 WIFIRE model of this week's historic wildfires in Northern California. Each color represents half an hour of activity over a six-hour timespan. Source: Daniel Crawl, SDSC/WIFIRE
Understandably, information about the path of destruction has been in great demand by the citizens of Northern Callifornia, firefighters, and government officials. So it's fortunate that a web-based tool for tracking these wildfires was ready to go and accessible to the public when the fires broke out last week. Known as Firemap, the application is able to perform real-time predictions of the fire's behavior, forecasting its rate of spread and direction.
The Firemap software was developed in 2015 by the UCSD WIFIRE collaboration, a project that provides tools and other digital resources to help firefighters and policymakers monitor wildfires and guide evacuations. According to a San Diego Supercomputing Center (SDSC) press announcement, WIFIRE's principle goal is to "make data and predictive models readily available so that the direction and rate of fire spread can be known as early as possible to assist in rescue and containment efforts."
The WIFIRE project includes researchers from SDSC, UCSD's California Institute for Telecommunications and Information Technology's (Calit2), the Qualcomm Institute, and the Mechanical and Aerospace Engineering (MAE) department at the Jacobs School of Engineering. The University of Maryland's Department of Fire Protection Engineering is also a project participant. The project was funded under a multi-year grant awarded by the National Science Foundation (NSF).
Besides real-time fire forecasting, WIFIRE's Firemap also provides access to data associated with previous wildfires, as well as past and current weather conditions. It collates data from a number of sources, includin, HPWREN camera images, vegetation maps, and weather forecasts. All these datasets are accessible on different websites, but Firemap integrates them into a central resource, where they can be accessed programmatically by fire response teams and land management groups.
The WIFIRE project got its first big operational test with a series of fires that burned more than 200,000 acres in Southern California in 2016.  They found the daily progression of those fires and the real-time prediction model matched rather closely.
According to Ilkay Altintas, chief data science officer at SDSC, the Firemap website has been viewed about a million times by more than 115,000 unique visitors since the wildfires began last Sunday. "It is our hope that Firemap continues to help both first responders and residents to better cope in this time of extreme crisis," said Altintas.