By: Michael Feldman
HPC specialist DataDirect Networks (DDN) has introduced Flashscale, a new all-flash storage solution aimed broadly across the high performance computing, enterprise/big data, and web/cloud markets. DDN is positioning the product for "scale-up and scale-out" storage installations, which implies customers with extra-large data sets. It is DDN's first pure flash offering and joins a growing list of such products from other storage vendors.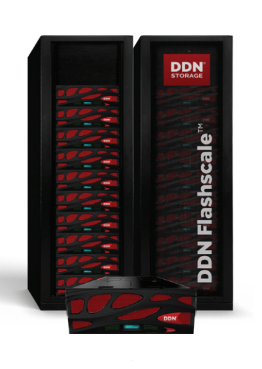 As would be expected from a flash setup, the new product provides plenty of IOPS and I/O throughput in a small footprint. A 4U Flashscale chassis delivers up to 6 million IOPS and 60 GB/sec of data transfer speed; a rack of such boxes will deliver 10 times those amounts. Latencies can be as low as 100 microseconds.
A Flashscale system can be configured with SAS or NVMe SSD devices, depending on performance, capacity, and cost considerations. At this point, the SAS flash devices offer the least expensive, highest capacity option. Filling each 4U box with 72 8TB SAS drives will yield 576TB, 5.8 PB per rack. Extra storage can be had with capacity-only nodes, which will bring the raw capacity up to 7.3 PB per rack. The SAS-based racks also provide the cheapest capacity at around $1/GB.
The faster NVMe drives offer more performance, but are somewhat pricier, driving the capacity cost well north of $1/GB.  Maxing out a 4U unit with 48 NVMe drives and 24 SAS drives will offer less capacity (250 TB), but the speediest I/O (6 million IOPS). As NVMe drives become more commonplace, expect more competitive pricing and higher capacities.
The 4U building block has two compute controllers, each of which comes with a pair of 18-core "Broadwell" Xeon CPUs. Up to 2 TB of memory fast memory (DDR4-2400) can be installed in the box. Connectivity options reflect the product's market breadth: InfiniBand and Omni-Path for HPC, Ethernet and Fibre Channel for enterprise and cloud.
Target industries include financial services, life sciences, technical HPC, manufacturing, and virtually any business that employs data analytics or database acceleration. Theoretically that captures a huge market, but since this product is aimed at large-scale storage applications with extra-high performance requirements, the customer base is going to skew toward the elite end of these industries.
According to DDN, Flashscale will be generally available in August 2016. Until then, if you're interested in a few more details, by way of a product brochure, click here.