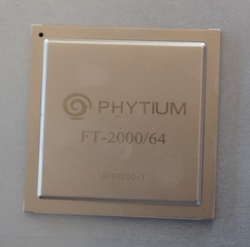 By: Michael Feldman
Phytium Technology has announced a 64-core ARM server CPU, which according to the press release will deliver 512 gigaflops of performance. The new chip, known as FT-2000/64, is aimed at "high throughput and high performance servers."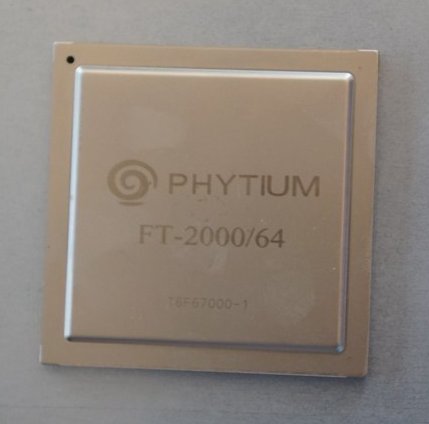 Phytium is a chip design enterprise, based in Tianjin, China. In March 2015, the company released its first products: the FT-1500A/4 and FT-1500A/16, 4-core and 16-core implementations, respectively of the ARMv8 design. The 4-core version was developed for PCs and lightweight servers, while the 16-core version was aimed at more mainstream servers for web, cloud, and database applications. The new FT-2000/64 is a more powerful version of 16-core chip, targeting the same server application space, in addition to high performance computing.
The FT-2000/64 announcement was made in conjunction with the Hot Chips symposium, which took place in Cupertino, California earlier this week. At the event, the company displayed a prototype server that housed the new processor. Phytium actually previewed the FT-2000/64 design at last year's symposium, when the chip was under the codename "Mars." That subsequently prompted some speculation that the chip would replace the now-banned Xeon Phi processors in the 100-petaflop upgrade to the Tianhe-2 supercomputer, which was supposed to be revealed in June at ISC 2016. Given that the latter never happened, it's likely those FT-2000/64 chips were not deployed, or if they were, did not meet expectations.
At 512 gigaflops though, the FT-2000/64 is certainly suitable for HPC gear. Assuming those FLOPS numbers are valid, the Phytium silicon would match up well with the current-generation Broadwell Xeon chips from Intel, at least from a raw performance standpoint. Also, with more than 200 GB/sec of memory bandwidth, the FT-2000/64 is well into Power8/Power9 territory. For just 100 watts, those are some impressive processor specs. And if those numbers hold up, that would mean Phytium's newest offering is the most powerful ARM server chip on the planet.
Here are the key chip features from the FT-2000/64 product page: 
Process:Manufacturing with 28nm process
Core:Integrating sixty-four FTC661 cores
Frequency:Running at 1.5GHz~2.0GHz
Cache:Integrating 32MB L2 cache and extending 128MB LLC
Extension Interface:Integrating eight proprietary extension interfaces, each delivering 19.2GB/s effective r/w bandwidth
Memory Interface:Extending sixteen DDR3-1600 memory controllers, which can deliver 204.8GB/s memory access bandwidth.
I/O Interface:Integrating two x16 or four x8 PCIE Gen3 interface
Power:Max. power 100W
Package:FCBGA package with 2892 pins
No pricing was provided on the new chips, and it's unclear from the press release if the product is available today. The next time we hear about the FT-2000/64 might very well be when it shows up in a TOP500 supercomputer. Stay tuned.