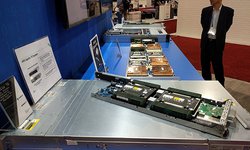 By: Michael Feldman
A handful of OEMs and other system builders have signed on to build high-performance servers using ThunderX2, Cavium's newest 64-bit ARM chip for the datacenter.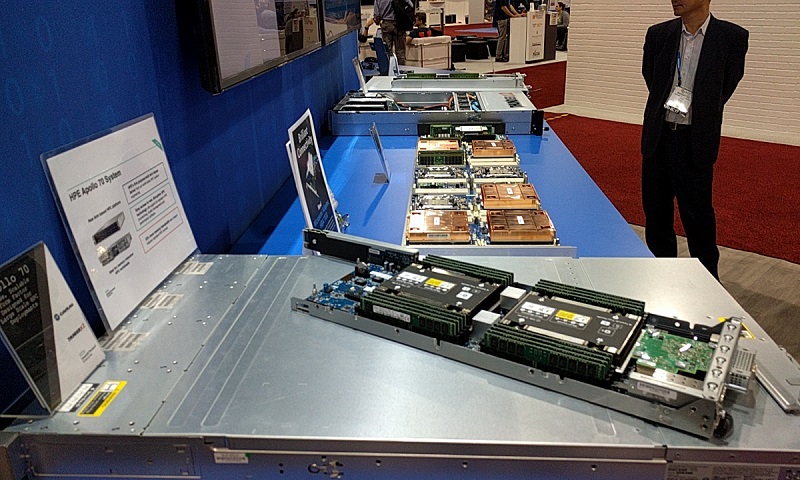 New ThunderX2 servers at Cavium's booth at SC17
This week at SC17 in Denver, a number of announcements around the ThunderX2 has solidified the chip as the ARM-implementation-of-choice for high-end servers. As we reported earlier this week, Cray will be offering a ThunderX2 option on its XC50 supercomputing platform. That revelation was followed by additional announcements during the conference that HPE, Gigabyte Technology, and Ingrasys have also added ThunderX2 servers to their portfolios.
The HPE offering looks to be the most significant of the bunch, if only because the company has the largest share of the HPC server market today. (Hyperion Research currently has them pegged with a 36.8 percent share, followed by Dell EMC at 20.5 percent, and Lenovo at 7.8 percent.) HPE's contribution here is the Apollo 70, a dual-socket ThunderX2 server that the company is positioning for memory-intensive HPC workloads. The platform supports either InfiniBand or Ethernet as the system interconnect and will be generally available sometime next year.
Gigabyte has two offerings. The first is the R181, a 1U dual-socket ThunderX2 server with multiple PCIe expansion slots for up to 12 SSDs. It's being sold for applications that "need cost-effective, high-performance compute platforms." The other offering is the R281, a 2U dual-socket design that has enough PCIe slots for up to 24 SSDs, and offers more memory capability than its smaller sibling. This one is being targeted to compute-demanding applications in cloud environments or where hyper-converged storage is required. Gigabyte says both servers are available to order now.
Ingrasys, which is a subsidiary of Foxconn Technology Group, will be offering a ThunderX2-powered server, known as the Osmium platform. It's a four-node, 2U box, with each node housing two ThunderX2 chips. The system will also offer four PCIe slots. Ingrasys is targeting its extra-dense design for cloud computing, cloud storage and HPC. The servers are available to order today.
Cavium is also working with Microsoft to contribute a ThunderX2-based motherboard for Project Olympus. The specification will be folded into the Open Compute Project (OCP), so will be available to other OEMs and ODMs who wish to copy the implementation. Microsoft is aiming the design at high-throughput computing applications.
All of the vendors are emphasizing the ThunderX2's high memory bandwidth and capacity as features that differentiate these designs from run-of-the-mill datacenter servers (read Intel-based gear). Whether that will be enough to gain a foothold in the HPC and adjacent cloud market remains to be seen, but it looks like we're going to find out rather soon.