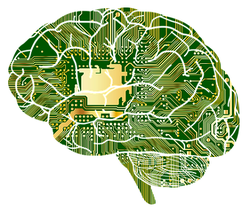 By: Michael Feldman
For anyone that hasn't been hiding under a rock for the last few years, it's become abundantly clear that the largest IT firms on the planet are moving quickly to build up their capabilities in artificial intelligence. But the largest of them all, Apple Inc., has been the least public about its plans. A revelation about a closed-door meeting in Europe suggests that might change.
Given Apple's fondness for secrecy, that's probably not going to reverse overnight. But a recent article in Quartz has revealed some of what's going on under the AI covers in the $500 billion-plus company. Specifically, Quartz reporters were able to get a hold of a slide deck that Apple presented during an invitation-only meeting at an artificial intelligence conference in Barcelona (NIPS 2016) on December 6. At that meeting, the company's new head of machine learning, Russ Salakhutdinov, along with other Apple colleagues, offered a peak into the company's ongoing AI research efforts.
Despite being the world's largest IT firm -- in fact, Apple is currently the world's largest company of any kind – it's at somewhat of a disadvantage compared to its principal competition in this realm, namely Google, Amazon, Facebook, and Microsoft. That's because those firms operate humongous consumer-facing clouds, which collect all sorts of interesting data like images and videos, social media content, emails, texts, purchasing behavior, and God knows what else. In turn, that data can be used as fodder to build neural networks for a variety of AI applications that those same consumers would be interested in. Apple collects some of this kind of data too, but on a much smaller scale.
One of those richer data sets owned by Apple is its image collection, which the Quartz article notes is nearly twice the size of the popular ImageNet database. But the company is not just doing image recognition work. According to the presentation in Barcelona, Apple is working on applications related to healthcare, language modeling, activity recognition, volumetric detection of LiDAR (Light Detection and Ranging), and prediction with structured outputs.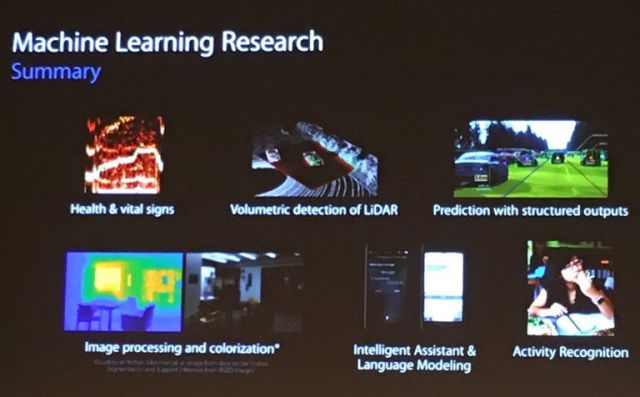 Source: Quartz
The latter two areas are of particular use for self-driving vehicles. At first glance, this might seem a little odd since despite occasional rumors of Apple developing an autonomous vehicle, it has never indicated it was doing so. In fact, two unnamed sources that attended the presentation said the company made no mention of pursuing an automotive business. Of course, a company doesn't have to build cars to benefit from AI technologies that will be adopted by the transportation sector. For example, Apple has its own maps app, something that could naturally be leveraged into a full-featured AI navigation system. Likewise, Siri and other iOS-based apps could find a home in future autonomous vehicles as they become smart machines on their own.
One area where Apple is pushing the machine learning envelope is in building cut-down neural networks. One presentation slide claimed that they can construct networks that are 4.5 times smaller than the originals with no loss in accuracy, and which can operate at twice the speed. The implication here is that such networks are more likely to fit in the confines of a hand-held devices, like say an iPhone or an iPad.
Another area where Apple is putting up some good numbers is image recognition. A slide showed that Apple's algorithm could process twice the numbers of photos in a given amount of time compared to Google's algorithm, and was able to so with just a third of the number of GPUs. There wasn't any information provided on what kind of GPUs were being compared or what other system configuration parameters might have come into play, but the claim by Apple was that their advantage came down to their better algorithm.
Whether any of these revelations drive Apple into a more public stance on its AI research remains to be seen. Apparently, Salakhutdinov told attendees at Barcelona that the company would "begin to publish its research and make a greater effort to work with the research community." His academic background as an AI researcher at Carnegie Mellon University, the University of Toronto and the Massachusetts Institute of Technology, and whose past work has been funded by Google, Microsoft and Samsung, would seem to lend some credence to that statement.
Regardless, Apple has a lot at stake over the next few years as it builds out its AI presence. Siri, once the industry's leading virtual intelligent assistant, now must compete with the likes of Google Assistant, Microsoft Cortana, and Amazon Alexa, all of which have a richer feature set than Apple's offering. Other application areas, like map navigation, communication management, social media delivery, and recommendation engines are being infused with AI at such a breakneck pace, that any company that wants to compete in these areas must have an aggressive AI R&D program to drive the technology.
Apple is aware of all this and certainly has the resources to respond. With more than $50 billion in cash on hand, the company can use a combination of technology acquisition and in-house development to propel its AI ambitions forward. Being more public about its research wouldn't hurt either, since that's the kind of thing moves the technology forward for everyone, plus attracts talent to the company. Google, Microsoft, and Facebook have managed to contribute a lot of IP back to the AI community without giving away the keys to the kingdom. Apple would do well to follow suit.